The Walk
Day 9 – Sunday 22nd June, 2008 – Reeth to Richmond
It was a good job that I usually had a room to myself as I woke at 4.35am. I read about today's walk, set up the GPS and maps, sorted out clothes for the day, showered and packed. Jenny and Celia started to stir around 7am. We had a lovely breakfast, Celia with a full English and Jenny and I with fried egg on toast.

We were ready to get going as planned at 9am. Val and Di were not ready when we called as their breakfast was delayed. We eventually set off at 9.30 with the threat of gale force winds (60/70mph) and rain. Well we were used to the wet stuff.

It was a gentle walk to the Nuns Steps in a pretty wood just before the village of Marrick. Our walk continued in high winds (almost knocking us off our feet at times), to the village of Marske, again there are some beautiful hay meadows on the way.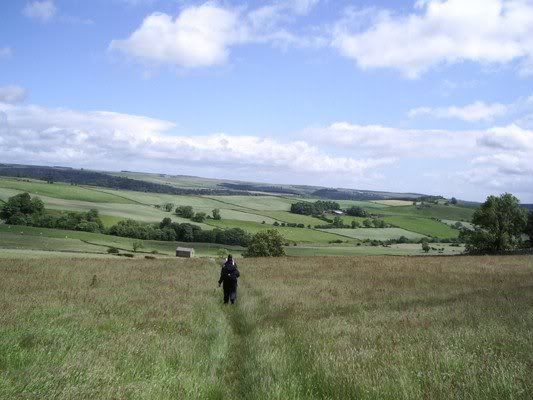 Hay meadow
As we entered the village there were a number of army vehicles who had somehow lost their way, but a local came to their rescue. We headed for a village bench and caught up with the Canadian group and an English male lone walker who insisted on having his photo taken with us. I just wish I had asked him his name we had encountered him most days on the walk. As we were the Famous Five Grannies he decided he would be the surrogate Granddad!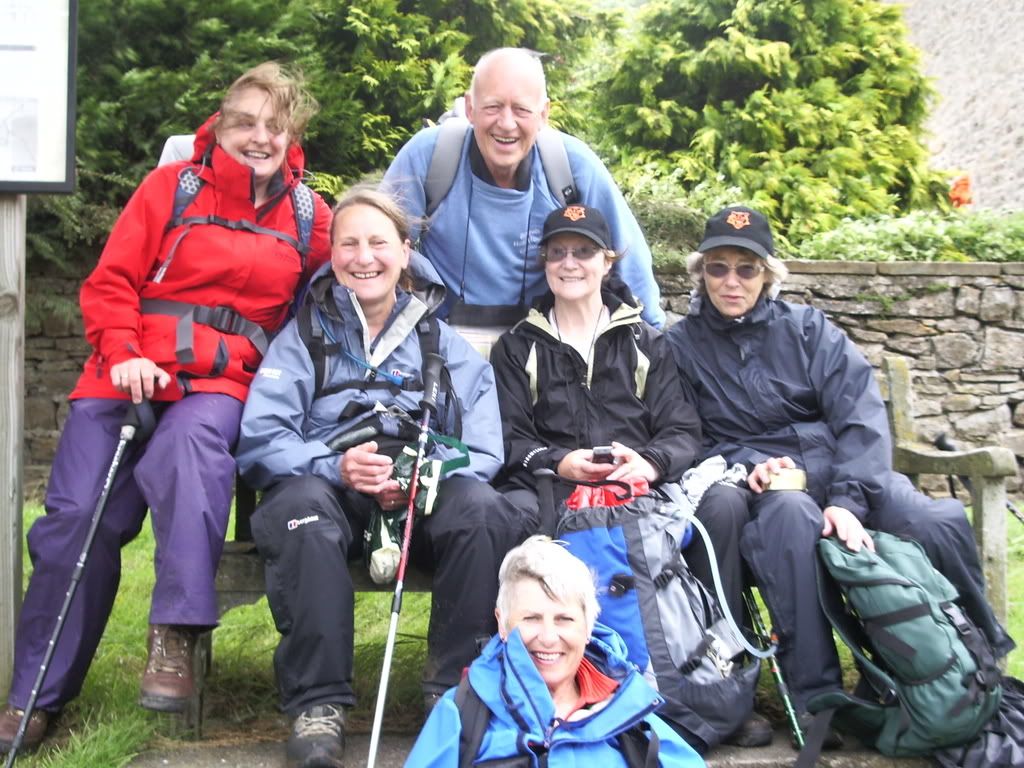 With our surrogate granddad at Marske
The rest did us good, with a quick snack inside us it was time to get moving again, a short climb out of the village to Applegarth Scare, crossing Paddy's Bridge on the way. This was a very muddy path and tested our boots. We had been walking and climbing for about and hour and were feeling in need of sustenance, we came across a small field surrounded by dry stone walls along Whitecliffe Scar. A very short break and we were off again, it was too windy to sit for long and we had soon become very cold.

The walk through Whitecliffe Wood was beautiful, but a bit scary with the gales blowing in the trees, we were glad to be out in the fields again.

Walking on the long road to the centre of Richmond was not easy, with small branches breaking off the trees and the wind taking us off our feet, hats being blown over hedges we were glad of the shelter provided by the town.

Our first view of Richmond
After a quick bit of retail therapy in an outdoor shop we sought out our B&B for the night, Emmanual, in Maison Dieu. Arriving at 3.30 in the afternoon with tea and biscuits on arrival set us up for a relaxing afternoon. We sat around talking about the walk and about our feet (the main topic of conversation on most days).

Val, Celia and Di had decided that they were going to evensong at one of the churches, while Jenny and I went for a meal. Unfortunately the service was not taking place so they quickly joined us in The New Frenchgate. The meal was perfect. As Di didn't feel too well, Celia and Val helped her back to the B&B, while Jenny and I explored the town before settling down for the night at around 10pm.