The Walk
Day 7 – Friday 20th June, 2008 – Kirkby Stephen to Keld (Tan Hill)
I woke up at around 5am and wrote up the log, and read a little bit about the days walk, sorted bags and was showered and packed ready to go by 8am. I could hear that Jenny was up and about went in to see how they were getting on and remind them that we needed to get going as breakfast would be ready in fifteen minutes. Jenny was up and packed ready…..

Breakfast at Redmayne House was served in the dining room and we shared the large table with a couple who were on holiday from Sweden. The food was excellent and again miles too much for me.

We decided to get a roll from the bakery for lunch, plus the fact that one member of the group had not sorted out the blister on her foot, so we were delayed further, and started out on the path around 10am.

The walk up to Nine Standards was fairly easy, with sun and high clouds for most of the walk. We took the obligatory photographs at the 'rest a while' bench.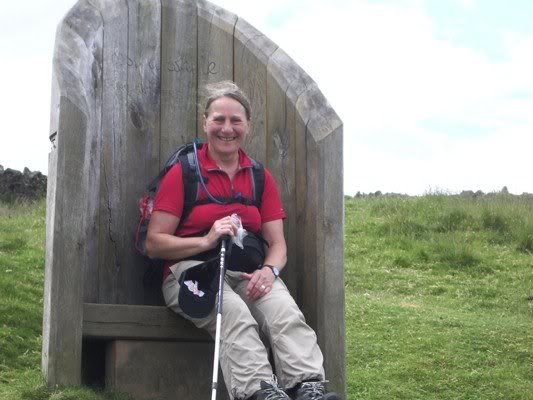 Val taking a rest on the 'rest a while' seat
There was a great deal of military aircraft flying around and they did detract from the beauty of the area. Just as we were nearing the summit, the storm clouds gathered and we out came the water/wind proofs.

We took our photographs on the summit and made a hasty retreat down.

Hang on to your hat Jenny
We should not have taken the blue route at this time of the year, so we were the only ones on this descent. It was very boggy and the gaiters came into good use. We found a nice spot out of the wind to enjoy the views while eating our lunch.

The path was difficult along Whitsundale Beck with few places to place your feet, however, we managed to get down safely.

We walked through Ravenseat Farm without stopping for tea as it hadn't been long since our lunch stop. The path was easy to follow with Whitsundale Beck to the right of us we passed a number of old stone barns that are in the main, no longer in use.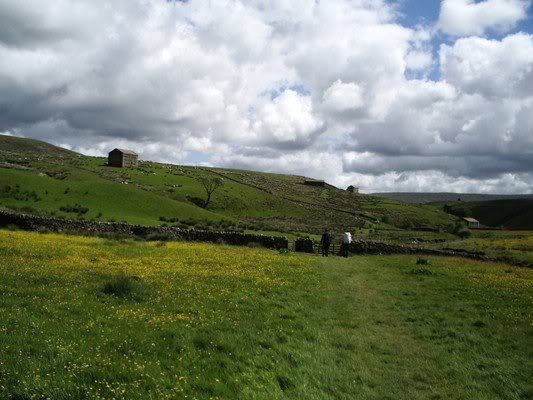 Walking up Close Hills near Ravenseat Farm
In a particularly beautiful spot we stopped for a short break, with the some of the best views in Yorkshire, (how anyone decides which is the best view in this part of the world escapes me!).

Arriving at the B6270 we strolled (it was one of those afternoons where one does not want to be hurried), along the road until we came to Wainwarth Force. Out came the cameras to capture this delightful waterfall.

A little further along the road was the turn off for Tan Hill, our overnight stop. We climbed up the road to West Stonesdale and planned to telephone for a lift up to the Inn from there, only BT being what it is, no coins accepted and no other way of paying! They will tell us that this telephone box will be removed due to lack of use!

I knocked on the door of one of the cottages, and a friendly young farmers wife – Sue Cowpathwaite – greeted us and let us use her telephone. While we waited for our lift Sue gave us an insight into sheep farming life, her knowledge of Swaledale sheep was pretty extensive, I could have listened to her all day she was so interesting.

Eventually we were picked up in a Landrover with no seats in the back where four of us scrambled into with sticks and rucksacks sticking in some of the most awkward places. We reflected on the fact that it was a long way up and we were glad that we didn't have to walk it on this hot afternoon. We arrived at Tan Hill at 5.45 having walked around 17 km.

Joy of joys, they could not find our booking, however, Tan Hill being just about the only place in the UK where you will not be turned away, they took us via the kitchen, to a very small room with two sets of bunk beds (and a very low ceiling), and a blow up mattress on the floor. This room had a tiny window that did not open and very little floor space.

We decided that at least it was a bed and it was only for one night. We went to the bar for a well earned drink (tonic water for me), and were told that an Australian group were booked into that room and we had to move! Ouch, we had just about settled in.

After scrambling around in the tiny room to repack the few things that we had unpacked, we were ushered through the kitchen, through the pantry and through the vegetable store to an annex. Wow, I'm glad we were not booked in! A kitchen, lounge diner with lovely views, a shower and a large bedroom with a huge double bed (Jenny and I got that), a set of bunk beds for Di and Val and Celia (being the youngest) was happy with the mattress on the floor.

The local sheep were continually trying to get into both the annex and the bar and it was a challenge to keep them out. This is one of those places that one should experience at least once in their lifetime, I have, twice and still love the place. There was a cat curled up on one settee and a dog on another in the bar, with four ducklings in a box beside the fire. It was a picture of country life in the raw, without the 'twee' frills that you see in country magazines.

Tan Hill Ducklings
The landlady, Tracey kept her staff in line and there was no room for arguments, she runs a strict ship up there. Tim in the kitchen, a young lad was a bit on the shy side, but did come round by the time we left and Victoria our waitress was lovely.

Our bar meal of eggs and chips was good. The bar filled up considerably and most of the people there were locals, who I guess just wanted to come and chat to the walkers.

Jenny and I retired around 9.30 the rest of the group stayed for coffee, then came back to the annex and fed the sheep through the window, I'm not sure that they should have been fed crisps, but hey, they enjoyed it! Jenny did Sudoku and I fell asleep.