The Walk
Day 6 – Thursday 19th June, 2008 – Shap to Kirkby Stephen
A hearty breakfast at 8.15 for Val and Celia, the rest of us settled for cereal, scrambled eggs and toast, which was served in the restaurant, with shop style windows we did feel a little bit on show to passersby. Our hostess couldn't do enough for us, extra tea, coffee and toast was brought to our table without having to ask for it.

Having paid our bill, we were out walking at 9am, which is good going for us, usually one or other was on the drag, but with a 21 mile walk ahead of us, we needed to get started. Fortunately we were just across the road from the start of the walk. We started well and were doing fine until we crossed the M6, when our group decided to follow the Canadian group, not a good move! After a while of wandering around a field, I took charge and guided us to the correct path which turned out to be one of gentle hills and slopes, making it a good start to the day after all. There were a number of times during the day (and days that followed), that the Canadian group could be seen wandering around checking map and compass and generally looking lost, but as soon as they saw us, they tagged along for a while and then off they went again. We were later to find out that they were all 'leading' the group!

Most of the morning we were walking with cloudy skies, but by the afternoon we had rain and hail for just about all of it. This made it very unpleasant as we were facing the wind for a while.

We decided not to go to Orton, but we did see the white tower of the church in the distance. Lunch was eaten beside a stone wall in a field where cows had once been, with views of Orton Scar. Finding a place to sit, out of the wind and away from cow pats was a bit of a challenge, but as we were all desperate for something to eat we settled for this field.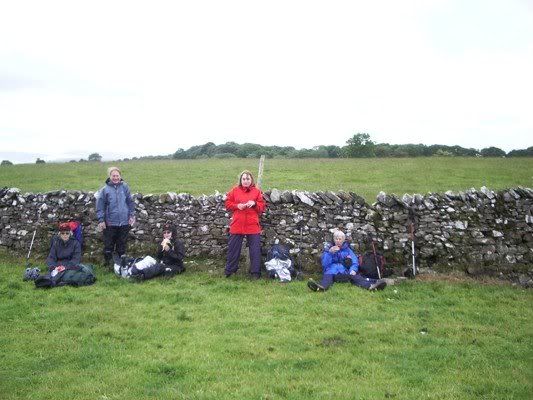 Lunch near Orton Scar
Walking across Tarn Moor was uneventful, but as we emerged from the moor the sight of Sunbiggin Tarn cheered us all. It's a good job our spirits were high as the next three or four miles was road walking, and although there was not much traffic, it's not the best place to walk. So with heads down and a purpose to get off the road as soon as we could, we set off with the wind behind us. By the time we had reached Severals Village (archaeological site), it was pouring with rain and was extremely slippery underfoot.

We passed through a field of cattle which included a rather large bull, being a country gal, this didn't phase me too much, providing I could get the rest of the group to be quiet, stop waving their arms about, stay together, and to use their sticks as they were intended to be used – walking poles. I did worry a little as the one member of our group was wearing a red jacket!

We were totally ignored by the bull and his herd, the thing that amazed me was the fact that not all members in our group realised that there was a bull in the field, they were worried about cattle in general. When I told them after we had exited the field they were a little shocked to say the least.

After Smardale Bridge we climbed up the fell and somehow, we took the wrong path and ended up at Crosby Garrent, way off track, so much for Stedman!! Actually it wasn't his fault we misread the instructions, and didn't bother to check GPS and maps!!! I think that we were getting tired and hungry plus the fact that it started to rain; well that's my excuse!

We were soon on track again and enjoyed the views of Kirkby Stephen ahead of us, with anticipation of a hot bath/shower and food.

We arrived at Redmayne House to a lovely welcome, tea/coffee and cakes awaited us all served in a beautiful room

Redmayne house is a delightful well preserved Victorian building and inside the owners have managed to retain just about all of the original features including a toilet with a very large lid.

Toilet with large wooden lid
Val & Di's room housed a large old welsh dresser, complete with crockery, along with very large wardrobes and tables. Jenny and Celia had the room next to me which had a double and a single bed in it, and on the double bed there was a hand sewn quilt made up in the design of the 'double wedding ring'. It was beautiful and I just wanted to sit and look at it forever, someone had not only the time and patience to make it but also the skills. My room was very small, but I did have the best view in the house of St. Hedda church tower.

The bathroom was something else…..with a large double fronted chest, rocking chair, wooden towel rails and rugs on the floor with pictures as well as all the usual things you find in a bathroom, - toilet, bath etc.

After we all freshened up we headed out for food, and settled for the Kings Arms, (there are so many places to eat in Kirkby Stephen, that one is spoilt for choice). As I had to get the GPS and maps ready for tomorrows walk, I went back to Redmayne House while the rest of the group had another drink. Climbing the stairs I was met by a young fit looking man dressed in just a towel….. there are some good bits to being the group leader.