The Walk
Day 4 – Tuesday 17th June, 008 – Grasmere to Patterdale
I woke up at around 4.30am, which is about my usual time. Slept well despite the B&B being on the busy A591.

It's a great time of the day to read Stedman's book about our walk for today, and to sort out my gear including maps & GPS, and repack the bag for the Sherpa Van pick up. There is an art to repacking your bag day after day, and by the end of the walk we had all mastered it!

We had decided (with the exception of Celia), that the breakfasts were way too large and went for a light option of scrambled eggs, which were cooked to perfection.

Once we had got our bags down, paid our bill and started to put on our boots, it started to rain, you know the stuff… light and misty where you get soaking wet very gently.

The climb out of Grasmere was fairly easy going, we stopped often to get our breath and give our legs a rest. The views were often marred by the mist and rain, the route up was slippery in places and Di fell, fortunately not far with no injury, but it did shake her up a bit.

We decided to take the Tongue Gill path, and the rain decided to get heavier, about half way up the rain eased off and we got the most spectacular views of the valley we had just climbed out of. It was good to see how far we had walked and that there were others C2Cers following us.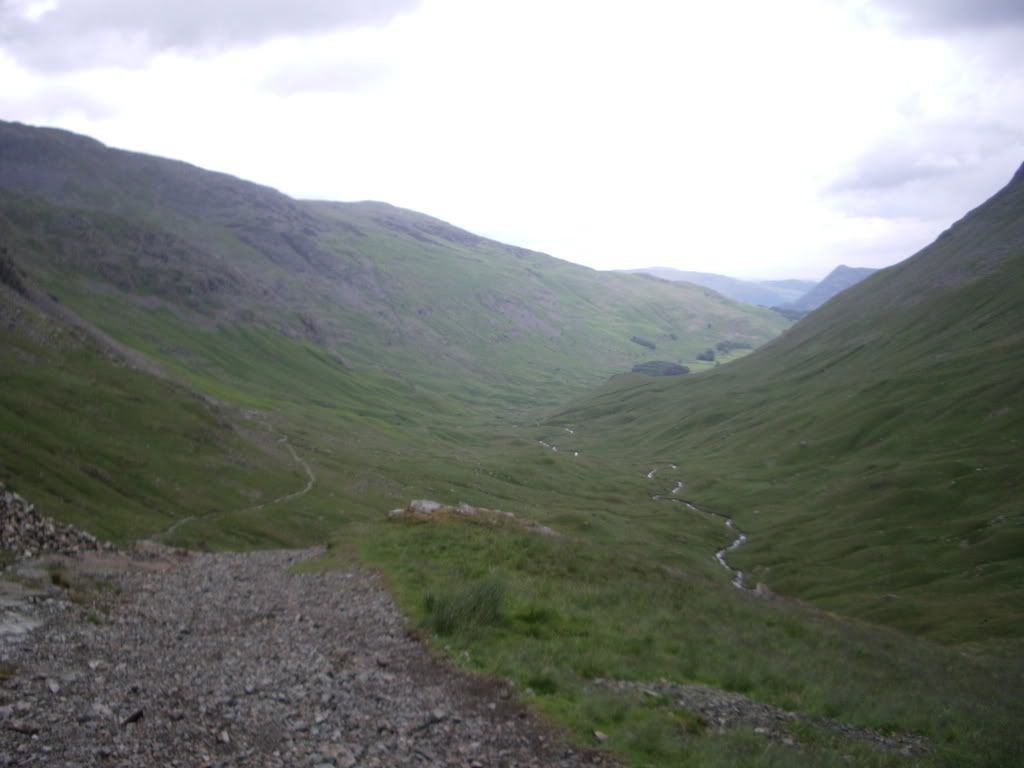 Looking back down the Tongue Gill Path
Nearer the top the path became very rocky and it was a difficult walk mainly because the rocks were wet and slippery, fortunately no one slipped and there were no injuries. When we reached the top the cloud was low and it continued to rain albeit much lighter than we had encountered during our climb up.

After about 200 yards, the wind got up and we had a lovely clear view of Grisedale Tarn, Helvellyn and the beginning of the Grisedale Valley, and saw a lot of walkers strung out ahead of us. As the weather was rough, well windy, we took the Grisedale Valley route. It was a long and rough track down, with a strong wind at our backs. The rocks and stones were much drier here, although we had to watch our footing, because the views were so beautiful, we were not always looking where we were putting our feet.

As we came to Ruthwaite Lodge (used for outward bound training), most of the walkers ahead of us, had stopped there for a break, the lodge was open as workmen were doing some repairs to the shutters, so we were privileged to see inside…. It was rather dark inside but looked welcoming, and I could imagine arriving there after a difficult walk in rain/snow, freezing cold and starving hungry, just what you would need in such bleak terrain. It's remoteness reminded me of Lingy Hut and the comfort it afforded when the weather was bad last November on my hill walking course with GPS Training. http://www.GPStraining.co.uk/index.html

Our fame had gone before us again, as we arrived a young man (Ian), asked me if we were the 'Famous Five Grannies'. Ian and his wife (Jeanette) had read about us on one of the websites and on the blog that I have been writing about our training. What a lovely couple. They were walking for their local children's hospice, and I have just heard that they raised £280.

Jeanette, Ian & Heather catching up at Ruthwaite Lodge
We continued our walk along Grisedale towards Patterdale with grey clouds, but no rain, and a little peek from the sun now and again to remind us what it looked like.

As we neared Patterdale our route took us off to the right and uphill again… groans all round. It was worth the pain to see such lovely views over Ullswater with a steamer docked framed by nearby trees.

Ullswater
It started to rain as we neared the river by this scenic route. We strolled along the road to the YHA, as we were in sight of our overnight stop we were not bothered by the rain. We had arrived nice an early, with time to catch up on laundry and time to chill, the first time we have had this opportunity so far.

Reception was closed, but there was tea/coffee making facilities available in the self catering kitchen. We had a well earned cup of tea and a relaxing hour in the common room. By this time it was raining hard, but this did not stop us putting on our gear and visiting the local shop, which was only a short walk away. I bought a postcard to send to my grandson, some milk for the YHA, as I felt we should replace some for other walkers arriving. (needn't have bothered there was some in the fridge) We wandered through the village, where Di, Celia and Val found a small church which they wanted to go into. Jenny and I went back to the YHA to write up postcards, and generally chill. On the way we met up with Ian and Jeanette who were looking for their B&B.

At 5pm when reception opened, we checked in, and were given a large room with 10 bunks, with just two other women sharing it. Jenny posted the cards, and dragged the others out of the pub, while I hired towels for each of us at a small cost of 50p each.
We ordered and paid for our evening meal, and spent another hour relaxing in the common room.

A quick shower, hand washing done, outer gear in the drying room, and it was off for our meal. This was the just about the tastiest, well cooked and well presented meal I have ever had for under £7. Complements to the chef. It's a lot of years since I last stayed at a YHA, and I have to say it was a pleasure, and boy have they moved on since the 60's.

The drying room is as expected with the YHA, large, with a washing machine and a sink for hand washing. Although our clothes were dripping wet when we hung them up, they were dry by the time we got up next morning.

After our meal, the rest of the group decided to do their washing and take showers, I decamped in the common room again, there was a football match on TV in the far corner, with two men watching it, eight large leather settees with one woman stretched out on one, me on another, (writing up my log) and Jenny came in and stretched out on another.

The facilities and welcome here are just what one wants after a long wet walk, YHA please don't change a thing at Patterdale, it's perfect.

At around 9.30pm we decided it was time to get some shut eye as we had a long walk tomorrow, with our highest climb up to Kidsty Pike and then onto Shap.