The Walk
Day 3 – Monday 16th June, 2008 – Rosthwaite to Grasmere
I awoke at 5am to bright sunshine, read a bit about today's walk, sorted out my gear, GPS and map for the day.

Breakfast, was large, although I had settled for scrambled eggs, there was much more than I could eat. Rachel our landlady was also a walker and advised us on the route we were about to take. She not only managed the B&B she also ran the campsite down the road. How she managed to balance all of this and find time to walk I really don't know.

We started off at around 8.30am and walked to meet Jenny and Celia. Val's knee was painful and she was still getting over the migraine, so she decided not to take the same route as the rest of us. Instead she did a more gentle walk into Keswick (about seven and half miles) and then caught the bust to Grasmere.

We had a lovely gentle walk up to Greenup Edge, bright sunshine with a cool breeze, perfect walking weather.

An Australian couple decided to carry their cycles up and ride down the other side. The woman was struggling to get up Greenup Gill and by the time we had reached Lining Crag she had found someone to carry it for her.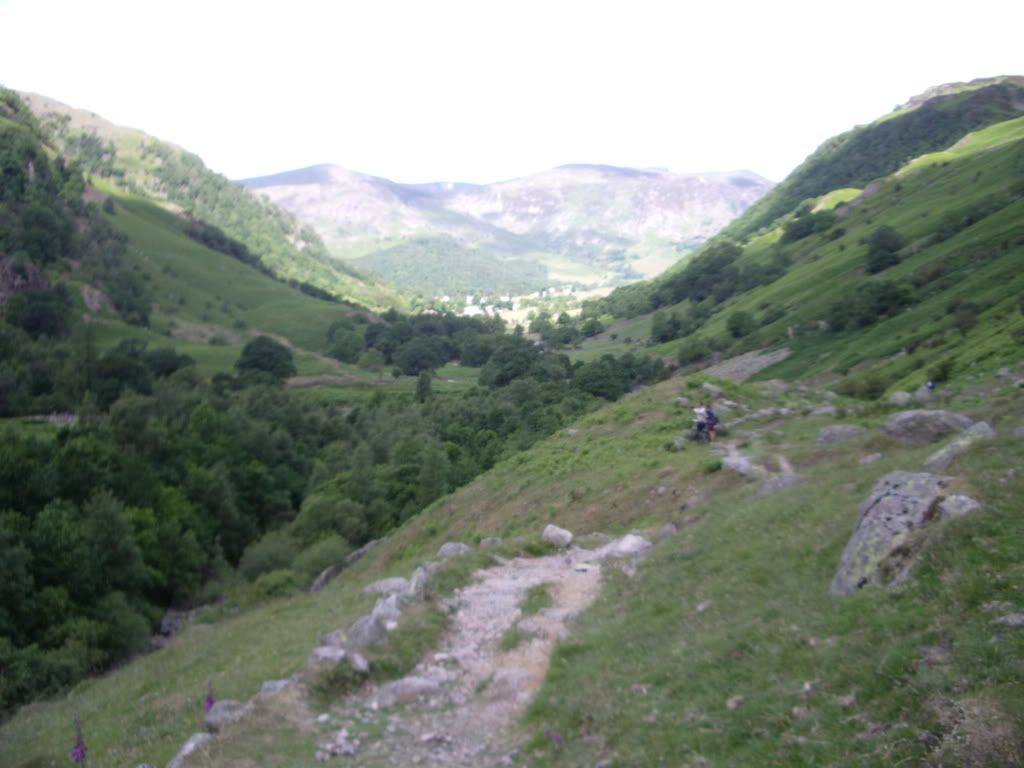 View looking down Greenup Gill
There were a lot of people doing this part of the walk today, and it was good to be walking with likeminded people, some serious and some who just wanted to do it.

From about a third of the way up the Gill, looking up to Greenup Edge it looked rather scary with people silhouetted against the skyline it appeared rather steep. Looking back we could still see the village of Stonethwaite with it's white houses dotted amongst the hills and trees, like diamonds on a shot of green silk.

At Lining Crag we stopped for photographs, a snack and to catch our breath. There were a number of others who decided to do the same. Taking in the views at this point was a sheer pleasure with Eagle Crag to the left and Greenup Gill path winding its way up on the right.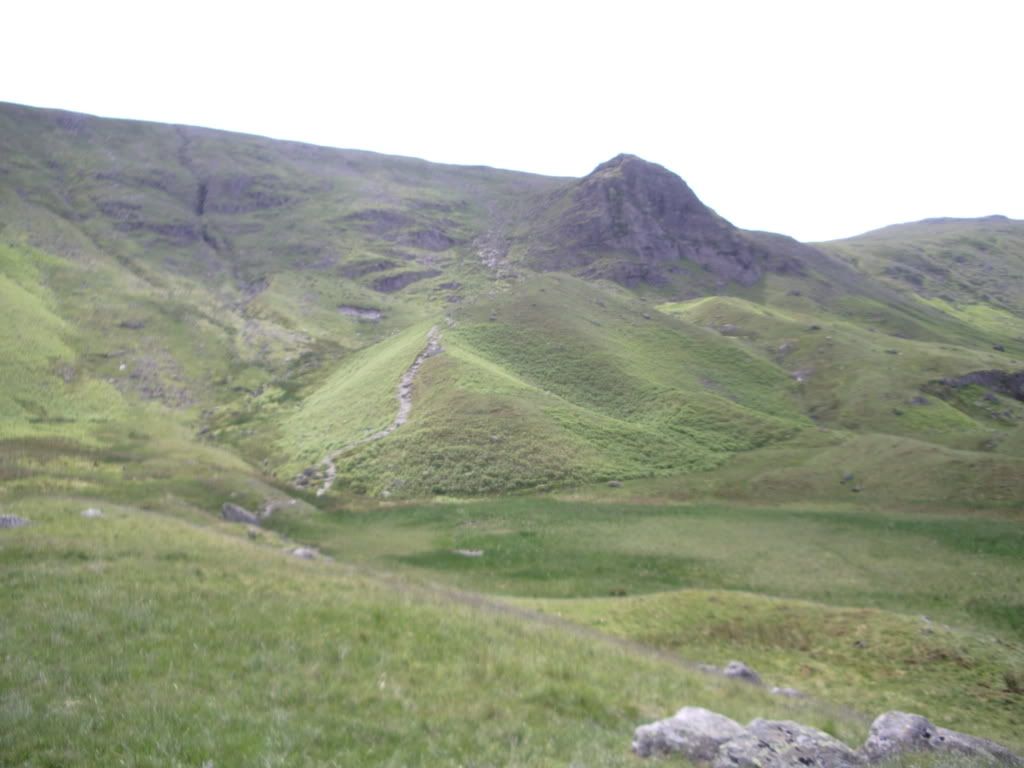 View of the path up to Greenup Edge
We were fortunate with the weather, it had stayed bright and sunny all the way up and we still had the light breeze.

Di and Celia were still playing with their mobile phones, missing some of the most spectacular scenery of the walk.

As we set off again to climb to the top and over Greenup Edge, the weather started to change and there were clouds building to the west of us. Having read about the difficulties some people have in finding the path down to Grasmere, I decided to push on and get over the Edge before the rain and clouds descended. A couple of other walkers who were a bit nervous about finding the path decided to follow us over. It was boggy in places but Stedman's book gave excellent directions and we made it over without a hitch, and settled ourselves in a small hollow in the hillside to have lunch with a view of the path down. Most walkers today had decided that this was a good time and place to relax and recharge after the long climb up.

By this time we had been joined by Clair a lone walker, who walked much faster than our group and really wanted to walk alone. She walked a short way with us and then made off on her own. We met up with Clair a number of times on the walk, but she always managed to move off at a much faster pace than us, age could have had something to do with it….

The walk down Easedale Gill was steep and slippery in places, a time when we were glad to be wearing walking boots one slip could have ended with a broken ankle. The couple with the cycles had not been able to cycle down, and walked most of the way, with the chance of cycling at around a third of the way from the end of the walk.

There were a number of ground nesting birds in this area who were calling us away from their nests, the little streams falling down to the path were perfect spots for the wildlife and sheep to drink from.

Walking down towards Grasmere was a sheer pleasure, the views were breathtaking and fortunately the rain didn't descend on us. Jenny and I continued to walk at the same pace, helping each other over the difficult parts of the path. We stopped for a snack and drink at around 2.30 in the afternoon, and it was a delight to see the village was much nearer and within an hour or so we would be there. One of our group decided that she didn't need her spare water at this point! It was hot by now and we were all feeling the effects of the heat and our aching muscles after a long climb and a long descent, perhaps it was not a time to be throwing water away!

We arrived in Grasmere at around 4pm, located our B&B (Ivydene). Val called to say that the bus was just arriving in the village centre, so I went down to meet her, we had an ice cream, and met Clair who was trying to locate her B&B, which so happened to be Ivydene.

Steve and Chris were staying at the B&B next door.

After a quick catch up with Val, it was showers all round and then down to the village for food. We ate at Ash Cottage hotel and had an excellent meal (although I later found out that it was not so excellent for my tum!) (it must could have been the prawns) The group of Canadian's plus Bart and Stanley also ate at the same hotel. I'm not sure how the owners felt having all these loud, rowdy walkers in. Vivien, one of the Canadians was planning to join our group for part of tomorrows walk.

We were all in bed by 9.30pm….you just can't keep up the pace when you get to be a pensioner!!!