The Walk
Day 2 – Sunday 15th June, 2008 – Ennerdale Bridge to Rosthwaite
Breakfast was superb, much too much for our small appetites, the pack up was also large and enough food for most of us for two days!

Steve and Chris who had read about us on the web, were also staying here and were walking the same route as us. However, their pace was faster than ours most of the time, later in the walk they did slow up a bit and we managed to overtake them….. can you imagine how proud we felt?

We set out at around 8.30am with the promise of a good days weather ahead of us. Just as we passed Ennerdale Bridge, we caught up with two American's – Bart and Stanley – who walked with us for a while, we pointed out some of our lovely wild flowers and were proud to show them pyramid orchids and ragged robin growing along the verge.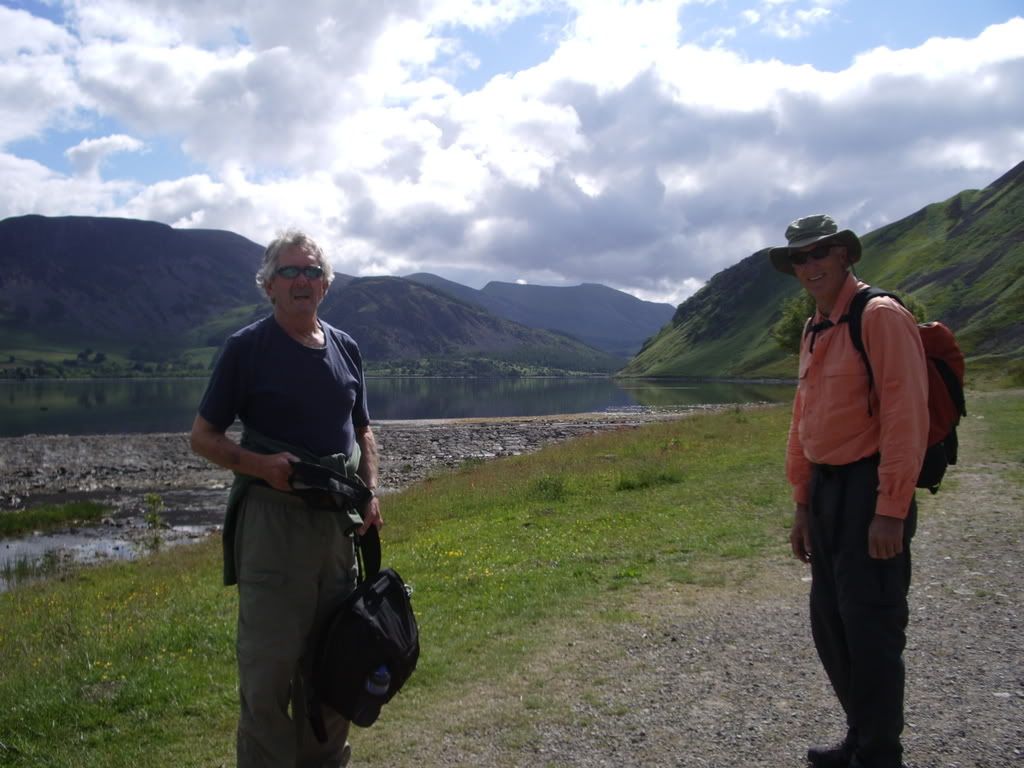 Stanley & Bart at the beginning of Ennerdale Water
Arriving at Ennerdale Water there was a lot of people around and we decided to wait for most of them to move off ahead of us, we didn't want to hold anyone up.

This is an easy path to follow, although at times it was a bit steep and slippery where some of the water had come down from the hills. There was a group of men who passed us and the last guy asked us if we were the 'Famous Five Grannies, he then shouted to the others 'yeh it is them' We all giggled and decided that we really were famous, well at least amongst the C2Cers.

The views along this path are breathtaking and something that I shall never forget, the water was still and calm, with the white puff ball clouds reflecting in the water it was a perfect mornings walk.

We stopped a couple of times taking in the view and having small snacks, although the mobiles were in constant use, for the best part, Di and Celia managed to keep up. However, by the time we got to the end of the lake they had dropped back again, we enjoyed the rest while waiting for them to catch up.

We crossed over to Gillersthwaite and walked along the forest track, and Stedman was not exaggerating when he said this path gets boring after a while – it does. We stopped at around 1pm for lunch and a quick check of our feet. Val was really suffering with her migraine, and didn't eat anything. She looked pale and stressed, she so wanted to do this walk and didn't want to give in.

Once we were back on the path again we felt like someone lost in a desert who frequently see an oasis, we kept seeing Black Sail Hut!!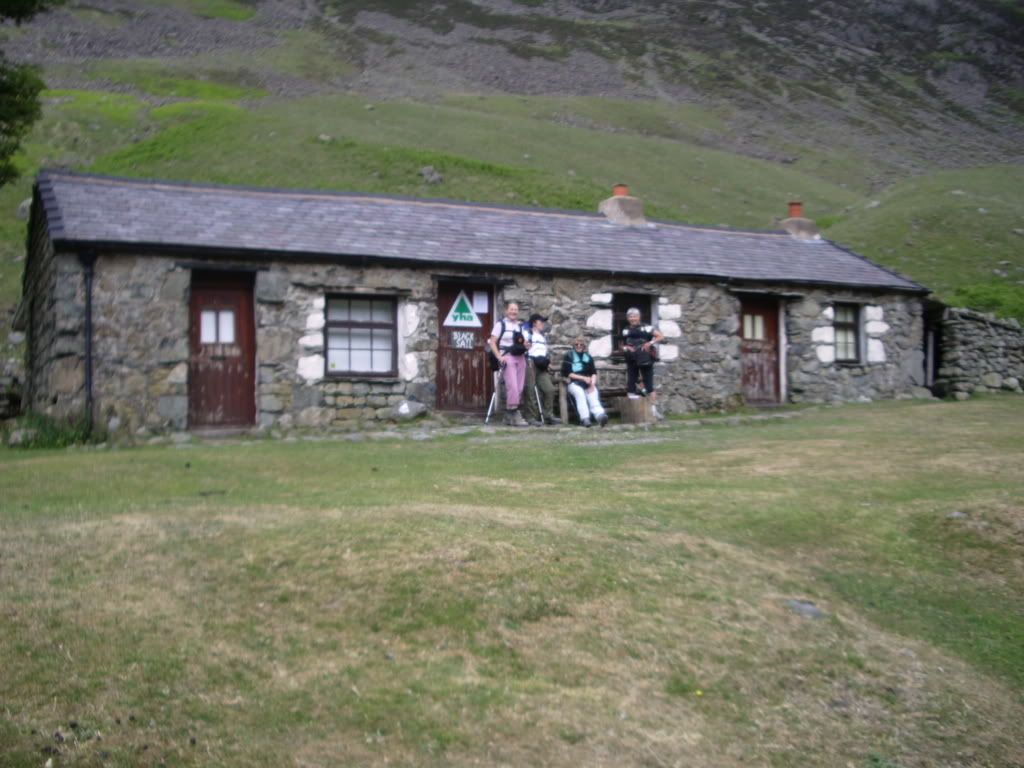 Black Sail Hut
After the usual photo shoot at Black Sail, which happened to be closed because of lack of water, we started our climb up beside Loft Beck towards Grey Knotts . The views towards Hay Stacks and Buttermere were awesome as we were blessed with good clear weather. A short break and we headed towards the slate mine at the bottom of Seatoller Fell.

Buttermere
The last 4/5 miles seemed never ending, however, walking on the path above Seatoller we were treated to beautiful views of the fells in the late afternoon/early evening sunshine. By the time we arrived at Rosthwaite everyone one was tired and had aching feet, ankles and knees. Jenny and Celia were staying at Nook Farm and had a few more minutes to walk, Di Val and I stayed at Gillercombe B&B arriving at 6.45 after a walk of 22.8 km.

Val had a shower and went straight to bed, Di and I had tea and biscuits in the lounge where one of the Canadians was already enjoying the hospitality, the rest of the Canadian group were still out walking, they had taken a slightly different route and arrived at around 8pm.

We didn't bother to go out for a meal, for some reason we had all lost our appetite and just needed to sleep. So by 9.45pm I was in bed, having written up my log and read about the route for Monday, checked the GPS and made sure that I had the correct map in the map case ready for an early start, with breakfast being served at 7.30am.