The Walk
Day 13 – Thursday 26th June, 2008 – Glaisedale to Robin Hood's Bay
Another good breakfast, although it was early (7.30), as we have a long walk today. We were all ready and on the road at 8.45, I'm not too sure why it takes us so long to eat and get moving!

Just outside the village of Glaisdale, we went to see the Beggar's Bridge which has a lovely tale and I quote Stedman –


"In the 17th century, Ferris, a humble pauper, was courting the daughter of a wealthy local squire. In order to win her hand Ferris thought he needed to improve his standing in the community so with this in mind he struck upon a plan to set sail from Whitby and seek his fortune on the high seas. The night before he put this plan into action, however, Ferris went to visit his beloved who lived across the river. Unfortunately the river happened to be swollen at the time due to heavy rain and Ferris's dreams of a romantic farewell were dashed. The story, however, does have a happy ending: Thomas returned from his adventures on the sea a wealthy man and married his sweetheart, and with some of his fortune made the Beggar's Bridge so that any other young lovers from the neighbourhood would not, in future, suffer the same torment as Ferris did that night"
What a lovely story, this makes the bridge all the more interesting once you are aware of the history.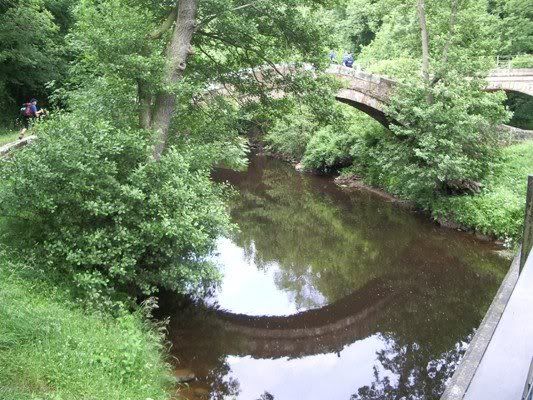 Beggars Bridge

We rejoined the path walking through beautiful woodland alongside the River Esk. At Egton Bridge we walked on a lovely path beside Egton Manor, where I saw black pheasants in a field to the left of the path, there were about ten or fifteen of them, and they were black, as apposed to the dark coloured ones we often see around here, that we call black. We passed the old Toll House and continued into Grosmont, following the River Esk almost all the way.

Toll Charges
Stopping to use the facilities as we entered the village, made a nice change from finding a secluded spot! Walking onto the station we were fortunate enough to find a steam engine waiting there while the fireman and driver purchased their refreshments. The station itself was like going back fifty years. There is a 'ladies waiting room', a tea room and shops, plus all the staff wore a uniform, it was a sheer delight to experience a bygone age.

We bought our lunch from the teashop, where they made up the rolls and sandwiches while you waited.

The climb out of the village was a stark reminder that we were still facing challenges and that just because we were at the tail end of the walk, it didn't mean an end to the hills. We continued to climb for quite a while and eventually came to Sleights Moor, a wild moor where you would not like to be if the weather was bad.

We reached the A169 at around lunchtime, but felt that we should continue to Little Beck village for our lunch break. What a good choice, it is a delightful village, and we ate our pack up on the bench beside the ford. Fully sustained we climbed (again), a short way up to the village hall and took the path that led us into Little Beck Wood, a wildlife haven if ever there was one. Bird song and wild flowers in abundance.

The hermitage is hiding in this wood, and of course the cameras came out for each of us to pose in the doorway for the obligatory picture. A short way on from here we came across the Falling Foss (waterfall), where I was fortunate enough to see a kingfisher dart into the trees from a nearby rock. This is only the third kingfisher I have ever seen. So if you want to see one, you will need to creep up to the waterfall very quietly and you may be lucky too.

Finally descending out of the wood we took the climb up to Sneaton Moor. This moor is very boggy in places and there were a few wet boots and feet by the time we reached the B1416. This is where we became elated at the sight of the North Sea, and felt that we were almost there…. WRONG, we still had a long way to go.

A short walk along this extremely busy (or was it rush hour?), road before we got to the Greystone Hills. Heavy rain made the walk difficult and the mist made navigation almost impossible, with visibility down to a few yards at times. We got a bit lost after crossing a particularly boggy area (wet boots again). We soon found our path, the GPS was a godsend for us, especially when you are tired and it's wet with low visibility.

The rest of the walk was uneventful, aching feet and legs kept the group a bit quiet.
We crossed the A171 in almost silence and then walked along the B1447 until we came to the Northcliffe Holiday Park entrance which led us to the cliffs. A delightful wildflower filled meadow awaited us, with were pyramid orchids in abundance.

The North Sea was calm, although there was an onshore breeze which kept us cool, along with some light rain. Jenny and I took a rest while we waited for our group to catch up.

Heather & Jenny waiting.......
Arriving at Robin Hoods Bay was the best feeling in the world, we arrived with aching legs and feet, feeling absolutely shattered, but the elation of arriving dulled the aches and pains. We quickly located our B&B, Clarence Dene, dumped our gear and headed down to the slipway to dip our boots and throw in our stones. This walk is very steep, through pretty narrow streets. I was the only one to throw my stone in, the rest of the group dropped theirs in and then picked them up again to take home.

Boots dunked, stone thrown in, time for photos and calls/texts home. Only one text back made me shed a tear, that from my son – "well done mum, I'm proud of you".

Heather taking a photo of the group!!
It was time to get that well earned drink in The Bay Hotel, we signed the register, purchased our certificates and relaxed. I bought everyone a drink, for me it was a large G&T, the first since leaving home 14 days ago.

Back at Clarence Dene, Jenny, Val and I shared a room, with Jenny and I once again sharing a bed, this one was smaller than the last, so we both spent the night clinging to the edge.
We took a shower, and off we went for a meal a couple of doors away at the Wayfarer Fish restaurant. Val had chosen scallops and prawns, and felt ill all night, she suffered in silence, not wishing to wake Jenny and I. At 5.40am she got up once she knew we were awake and was violently sick. She really should have woken us up, neither of us would have minded and we would have given her some medication as well as sympathy and company. There is nothing worse than being ill when you are away from home.

The rest of us had breakfast around 9am (Whitby kippers for me).

We all spent time wandering in and out of shops during the morning while we waited for Don and Carolyn to pick us up. Such a delightful village we all felt, required a little bit of exploration.

Don and Carolyn arrived, and we all had a light lunch before heading off back to Suffolk.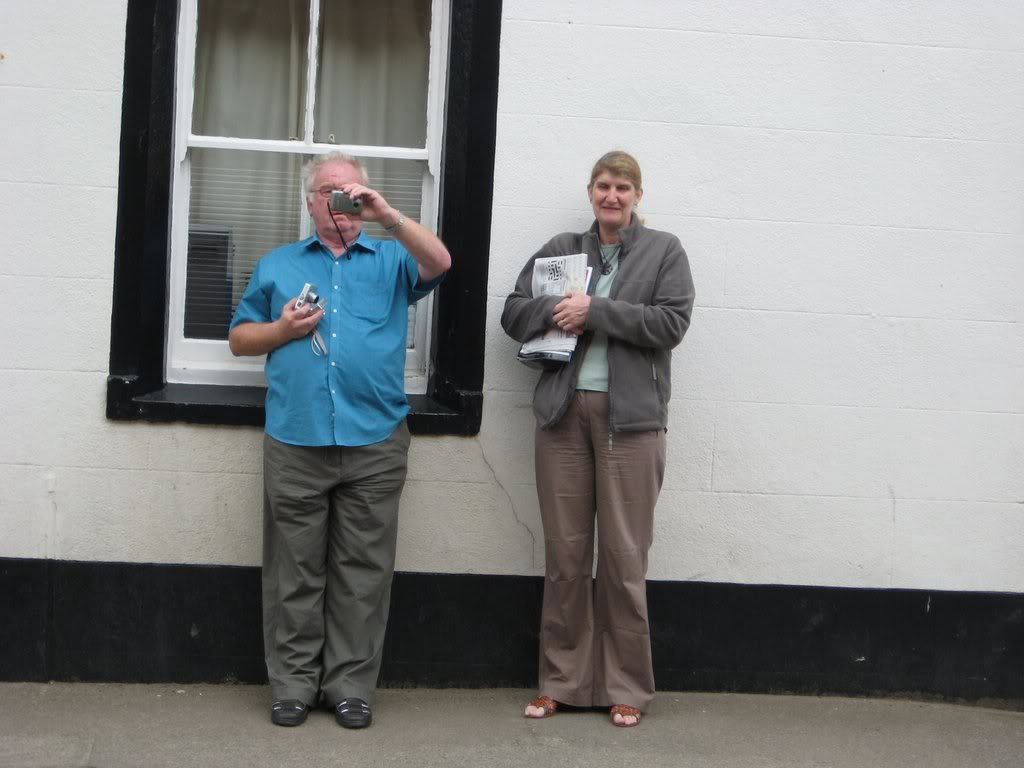 Don & Carolyn
Val spent most of the journey asleep, and by the time we arrived home, she was looking and feeling much better.

Would I do it again?…… Yes but not with such a large group, three maximum.