The Walk
Day 12 – Wednesday 25th June, 2008 – Clay Bank Top to Glaisedale
With blisters sorted and a good breakfast inside us and a lift to Clay Bank Top, we were ready for the day ahead.

The walk started with a steep climb up to Carr Ridge and then onto Urra Moor, once up there we walked on a sandy path through the heather. It was windy, but the sun did keep popping out to see us.

The ground nesting birds were in abundance especially grouse. Judging by the cacophony that was going on around me, I'm not sure that the rest of the group were/are as interested in birds as I am.

These moors are huge and one can understand how easy it would be to become lost out here. We had a clear day to take in the vastness of the moors and to respect that nature can be harsh and dangerous as well as kind and beautiful. The colours ranged from light green, through brown, deep purple to black, without a tree to be seen. I could imagine snow covering this terrain making it a very bleak place to be stranded. A shudder went through me as a consequence of these thoughts and I quickly caught up with Jenny for company.

Stockdale Moor
We reached the former Rosedale Ironstone Railway line, long since disused, and walked along it to Bloworth Crossing. It was here that we finally left the Cleaveland Way path.

This long walk over Ferndale Moor was a bit tedious, the path was straight and uninteresting, either that or we were getting tired and in need of a break. Along High Blakey Moor we could see the rooftop of the Lion Inn, and that spurred us on, our steps quickened and suddenly we were not so tired. A short climb up to the Inn at Blakey Ridge just as it started to spit with rain. This was about halfway for us and a good place to stop for lunch.

The Lion dates back to 1553 and from the outside does not look as inviting as perhaps it should for a building that old. However, once inside and it's a different story, low beams, small areas off of the main large bar area, and the wonderful smell of food. There is a restaurant with full menu and the opportunity for bar meals. Judging by the number of 'ordinary' folk as opposed to walkers, the food was going to be good. I had veggie soup and roll (the best on the whole walk). Steve and Chris were already there, and Chris was suffering from a large blister on her foot, Steve wanted to 'pop' it for her, but so far she had refused. (they were still discussing it when we left about an hour later!)

The Canadian group came stumbling in, soaking wet as it was now tipping down with rain and the wind had got up.

We struggled into our waterproofs in the little bit of space that was now available, as the pub had filled up considerably in the short time that we were there.

We had a lot of road walking to do and it's even worse in the rain, the road was not too busy, but a straight road, the traffic took advantage of this fact, so they were rushing past us adding to the wind that we were already struggling with. For some reason we got lost, my fault entirely, someone had asked me if they could look at the book (map) and I turned back one page instead of two, so for a short while we were lost.

Back on track and passing 'Fat Betty' we eventually came to Great Fryup Lane, where we did our last bit of road walking for a while. We turned right onto Great Fyup Dale stopping at Trough House (a disused cottage on the moor), for a comfort break, eventually climbing up onto Glaisdale High Moor.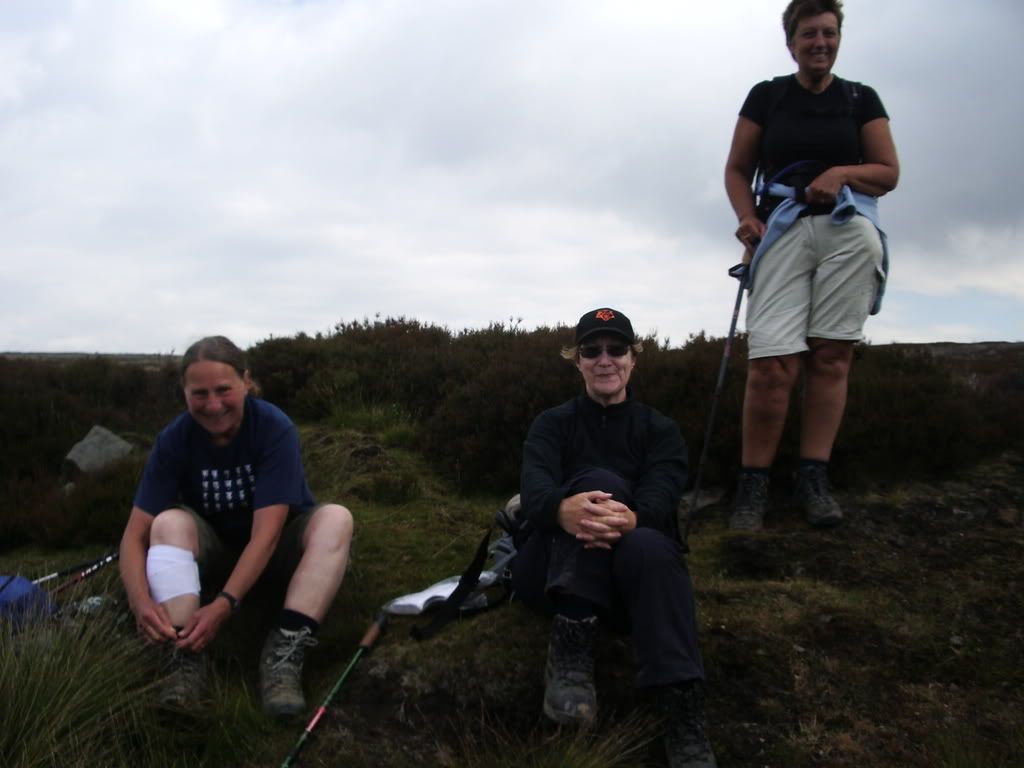 Chris joined us for a pit stop
We had a little bit of road walking along Glaisdale Rigg before turning right onto the path over Glaisdale Moor. This path seemed to go on forever and we were all feeling tired and ready to stop, in fact Jenny and I did stop for about five minutes, we shouldn't have done that! Getting going again was a bit of a struggle.

We looked back along the path to see a number of walkers following who we suspect had delayed their start from the Lion due to the rain, which had stopped after about a mile into the walk.

Arriving in Glaisdale at around 5pm we found a shop and stocked up on fruit etc. Ashley House, our B&B was a little way out of the village so we had to plod some more before we could relax. A muscle in my left calf had decided enough was enough, Jenny had a muscle in her hip that was giving her pain, everyone else was just tired and or nursing blisters.

Another lovely welcome awaited us and for the first time on the whole walk I had the largest room, double bed, at the front of the house overlooking the valley and the village beyond, what a treat.

View from my window at Ashley House
Toasted buns, and tea was served in the guest lounge, Di, Val and Celia went off to take a bath, while Jenny and I did exercises on the floor to relax our muscles (we were glad that our hosts didn't come in).

A bath, and change of clothes, plus a massage with Deep Heat from Val (phew that stuff stinks, but it does work), and I was as fit as a fiddle…. Well nearly. We walked the 200 or so yards to the Arncliffe Arms for a superb meal. If ever you are in Glaisdale you just have to eat there, a brilliant chef.

We strolled back up the hill to Ashley House and were all in bed by 10pm. As my room faced West, I sat in bed and watched the sun going down over the village. Total relaxation. I wrote up some of my log before dropping off to sleep, like the rest of the group I was too tired to stay awake any longer.