The Walk
Day 11 – Tuesday 24th June, 2008 – Danby Wiske to Clay Bank Top (Great Broughton)
A good start today, breakfast at 7am and on the road at 8.45 – Not sure why it took us almost 2 hours to eat!!!. With 21 miles ahead of us we did need a good breakfast!

Leaving Danby Wiske left us all feeling rather sorry, as it is a pretty little village, although there is not much to do, other than visit the church and have a drink and meal in the pub. The warm and friendly welcome more than made up for the lack of other services.

The first part of our walk was on roads and then through fields, with rats on stiles!!

Rats
We used the facilities at the services when we reached the A19 and managed to dodge the traffic when we crossed over it towards Ingleby Cross.

On reaching Arcliffe Wood we decided to take the shortcut through the woods, which started off with signposts. After a while they soon disappeared, and we followed a track and came out on the road, only we were a long way off course and this meant a great deal of road walking. This was not our idea of fun, by now we had all come to the conclusion that we didn't like road walking and wanted to avoid it as much as we could.

Back on the Cleveland Way path we climbed up through the woods of Coalmire towards Live Moor. A little steep at times just to remind us that we were being challenged and that we were not on a stroll in the park.

After passing Huthwaite Green we started the walk up and over live Moor to Carlton Bank. This path was easy to follow with most of it being laid out with large flat stones, which made the walking easy and gave us the opportunity to enjoy the scenery.

The weather was dull, but no rain or sun for that matter, so all in all good walking weather.

I hadn't told the group about Lord Stones earlier in the day, I wanted to surprise them, and in case if we were running late, we may not have had the time to visit and then they would have been disappointed. We were descending Carlton Bank, a very steep and rocky path, when I told them that tea and scones awaited them at the bottom, that brought a smile to everyone's face.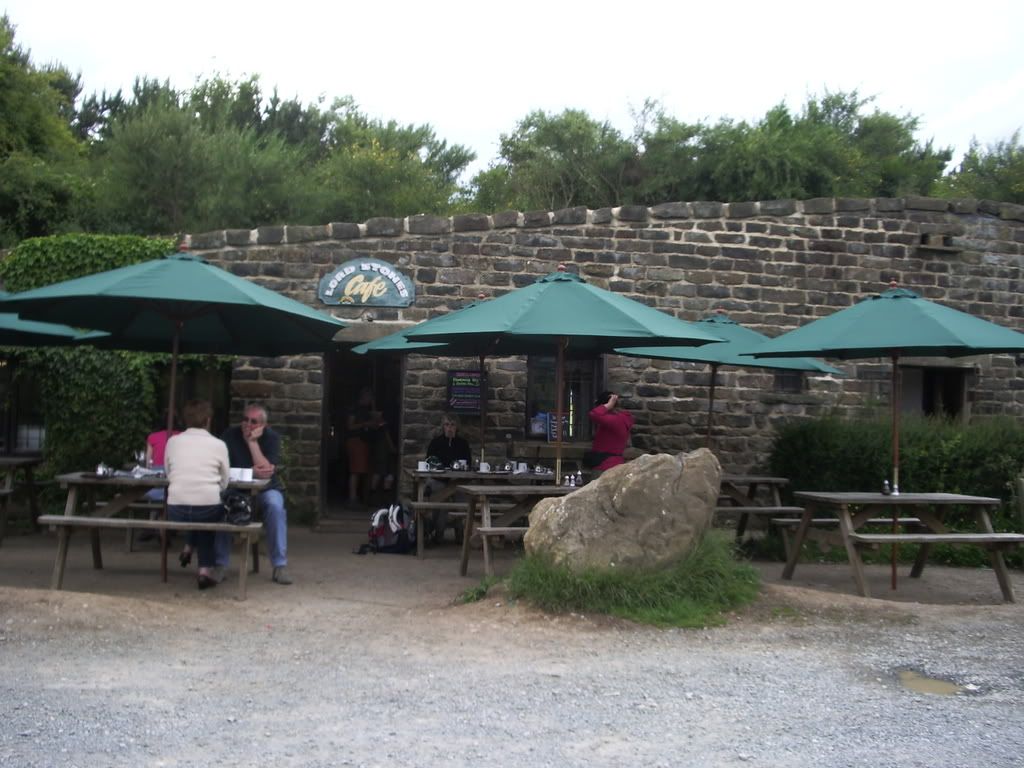 Lord Stones
Stopping was a bit of a mistake, as we then realised that we had a very long climb up Cringle Moor, so there were a few moans and groans when we all saw the path upwards. There was a young lad running up and down just for the fun of it, and that did nothing for our sufferance.

Cringle Moor
However, once at the top and sitting on the Alec Falconer memorial seat taking in the views, we were elated, not only did we climb with full tums, but we had good walking weather and breathtaking views. For a short while we forgot about the rest of the walk, our blisters and all thoughts of hot baths and showers, we just chilled. Then suddenly we were chilled! We had sat too long!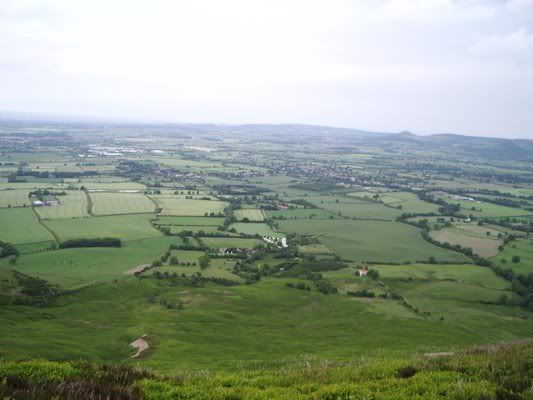 View from the Alec Falconer memorial seat
Once at the bottom we decided to take the route through Broughton Plantation instead of following the Cleveland Way path over Hasty Bank. The walk through the plantation is almost parallel with the Cleveland Way path, but it is flatter and we were tired, having said that it seemed to go on forever. We eventually reached Clay Bank Top and called our B&B for the lift down to Great Broughton.

We were staying at Ingle Hill B&B and their daughter came up and collected us all in one car, so with most of the rucksacks stowed in the boot, the rest were squashed in with us and our sticks, we arrived to a lovely welcome and Ingle Hill.

Tea, cakes and biscuits awaited us, along with a welcome from a most charming couple and their grandchildren. We all felt very much at home and almost part of the family.

Quick showers and baths out of the way and it was off to the pub for a meal, we had a number of choices and settled for the Jet Miners. The food and atmosphere was excellent. Walking back to our B&B we reflected on our days walk and were extremely pleased with ourselves for having achieved so much and noted that we have become fitter as the days progressed.

Back in my room, I sorted out my clothes for the next day, did most of my packing, sorted out maps and GPS and wrote up my log. By 10.30 I was in bed and in need of a good nights rest.