The Walk
Day 10 – Monday 23rd June, 2008 – Richmond to Danby Wiske
I awoke at 5am, read some of Stedman's about today's walk, set up maps and GPS, showered and packed. Breakfast was at 8am, we had ordered it at this time, and as usual one or two of the group were on the drag, so when we got down for breakfast five minutes late, the man of the house reminded us! However, it was good and wholesome and set us up for the days walk of about 13 miles.

We were ready to leave at around 9, but had decided to stock up on a few things like compeed and fruit. Eventually after doing my best to prise them away from the shops we got moving at just after 10am.

Leaving Richmond via a walk below the castle walls and beside the Swale was lovely and we were glad that we had chosen not to find a more direct route along the A6136, which we had to eventually join anyway.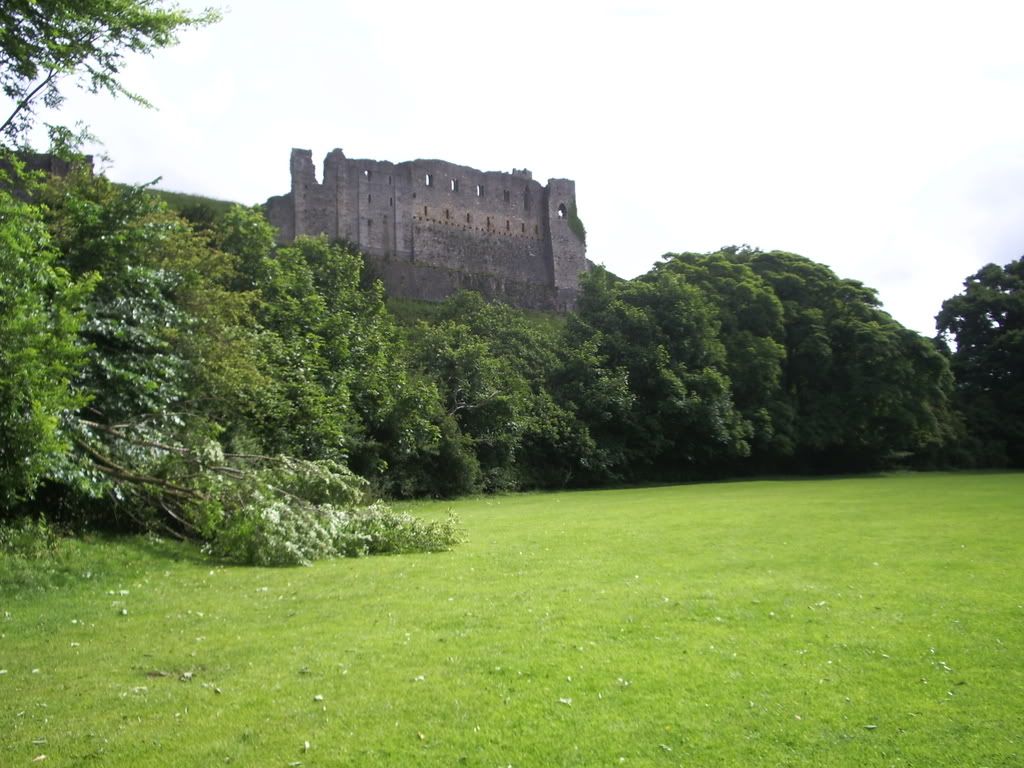 Richmond Castle from the C2C path
The path beside the sewerage works and through Iron Banks wood was very muddy, but the woods were full of song birds and wild flowers, well worth getting our boots muddy just to be in such a tranquil setting.

Iron Banks wood
We stopped at Colburn for a 10 minute break and to get rid of some of the mud we were carrying on our boots.

The walk to Catterick bridge was uneventful, passing through fields and farms with cattle and sheep grazing. Crossing the A1 was a bit tricky, with traffic coming from all directions – we were not used to so many vehicles. Once across the road the walk alongside the Swale to Bolton on Swale was relaxing and we ate our lunch beside a stream in a field with a herd of bullocks who were very curious about us and surrounded us. Most of the group had by now, become accustomed to animals and were not too bothered, although one or two didn't like them coming too close. They couldn't understand that the animals wanted to know what we were doing in their field, the same as we would want to know what they were doing in our garden if they came to visit.

Inquisitive Bullocks
We picked up the path again which took us through Hodber Hill and Fatten Hill plantation, an old man smoking a pipe and leaning on a gate nodded to us as we passed, and the look on his face said it all – 'daft b***ers'.

Thereafter the walk to Danby Wiske was along a very long road, and we were glad when we had arrived at our B&B. I just hate road walking, not necessarily because of the traffic, we didn't see any, but because it's usually boring.

We arrived at Ashfield House around 4pm where tea and home made cake awaited us.

A shower and time to relax and reflect on the days walk, whilst putting our feet up, we had ordered our evening meal at Ashfield House and were not disappointed with our choice, it was excellent.
With full stomachs and aching legs we tottered along to the undedicated church, which is plain by most standards, but still a beautiful building. The solid oak door and the stone font date back to the 11th century. This is one of the very few undedicated church's in England.

Danby Wiske Church
On the way back to the B&B we stopped off at the White Swan where we met up with other walkers, a group of young men (everyone looked young to us), who had named us the 'Golden Girls' were already there enjoying a drink.

We didn't stay too late as we have a 21 mile walk tomorrow, so it was back to our rooms, sorting out clothes, packing and generally getting ready for an early start.