The Walk
Day 1 – Saturday 14th June 2008 – St. Bees to Ennerdale Bridge
I was awoken at around 2.20am by someone trying a key in my room door, and then a lot of giggling and the sound of things falling around on the lawn. When I eventually got up around 4am, and looked out of the window, all of the garden furniture had been lined up facing the wall!!

After a couple of cups of tea, and another read of Stedman, I could hear that the rest of the world had caught up with me and it was 7.30am. We all met up in the apartment with bags packed and ready for breakfast at 8.30am. We would have preferred an earlier breakfast but others got in before us, they obviously knew something we didn't. At breakfast there was a group of 8 Police officers who were doing the C2C on cycles. We wished them luck as they left.

After paying our bill, and oodles of photographs later we eventually got going around 10am, and just before the start of the walk (about a mile from Fairladies Barn), it started to rain, not much at first, but we soon got to realise on this walk, that the heavy stuff usually started as 'not much'.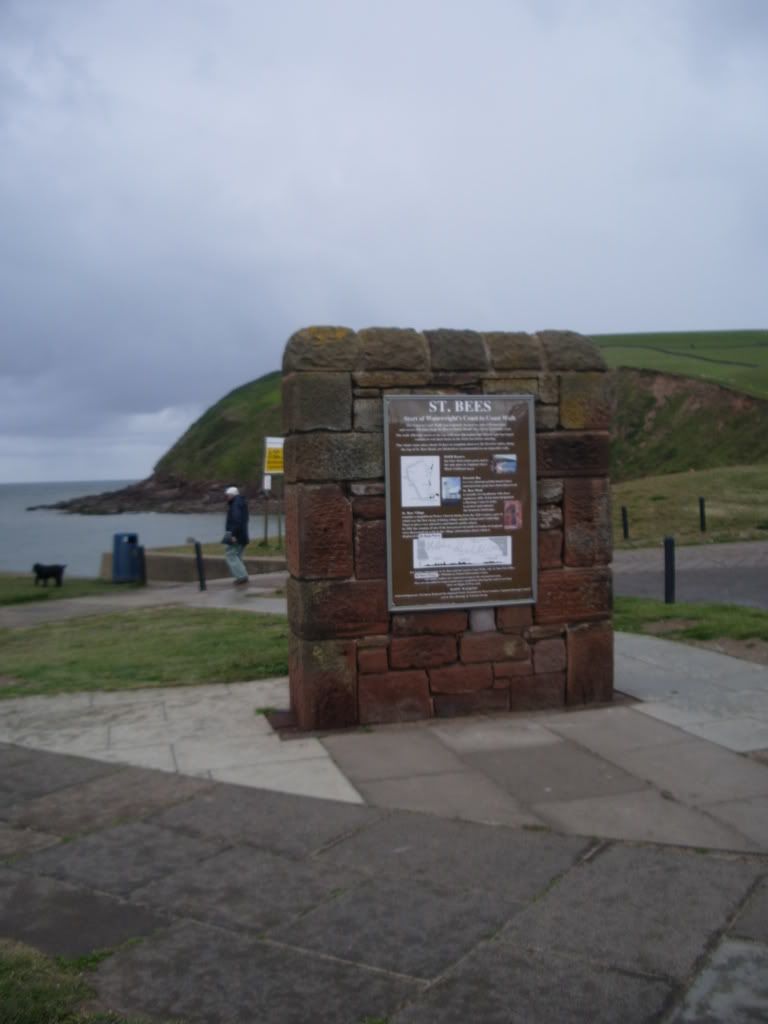 Start of C2C
We dipped our boots in the Irish Sea, I picked up two small pebbles, one to put in the North Sea and one for my grandson (James).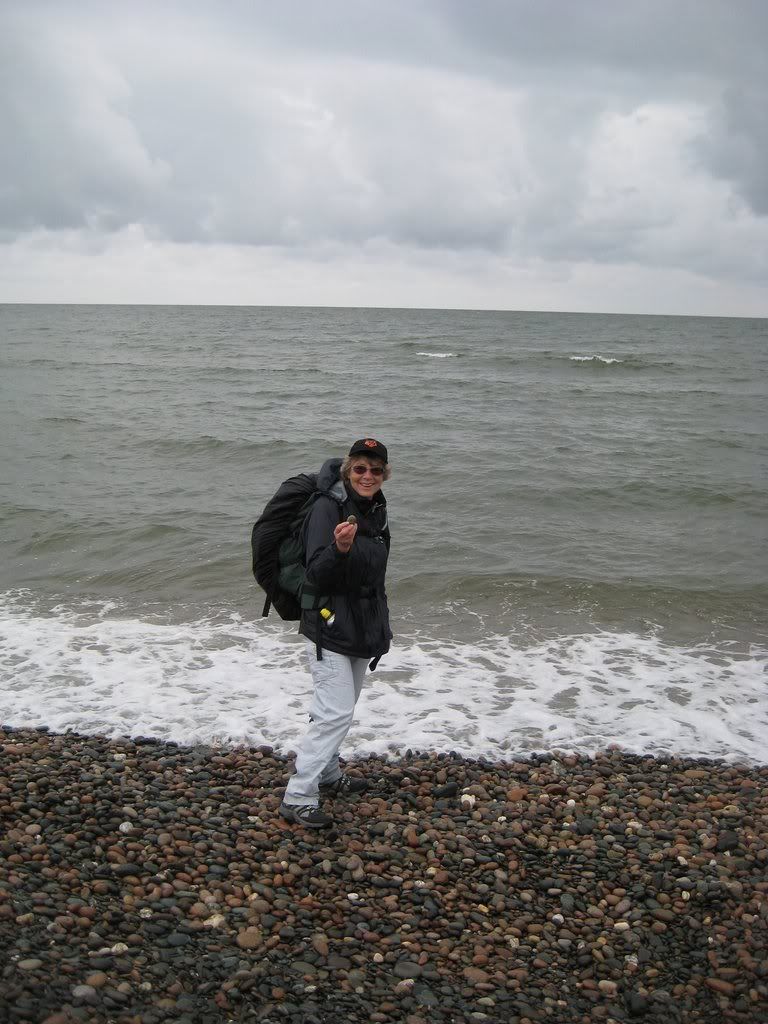 Jen dipping her boots at St. Bees
The climb out of St. Bees was easy walking although we couldn't see too much of the views as the rain was now of the heavy but misty type.

Jenny and I tend to walk at the same pace, Val, who is usually way up front, kindly waited for Di and Celia, who did enjoy using their mobile phones a great deal. Along the route we saw a water vole eating and completely ignoring us, he even turned his back when we took his photo!

Camera shy water vole
The rain eventually stopped by the time we got to Saltom Bay as we turned towards Sandwith. Di and Celia had fallen behind and Val waited for them. By the time we reached the bench in Sandwith we received a telephone call from Val asking the way, they had turned right instead of left. After we all got together again, Val explained that Celia thought that she had lost her camera (it was in her bag all the time).

We all set off together and within a half mile, Di and Celia along with Val, were again out of sight and eventually got themselves lost again. Once they caught up we decided to have lunch and discussed the fact that we need to keep together for a number of reasons, not least that I had the map!

The rest of the walk was lovely with wonderful views and clear blue sky, the climb through the forest to Dent towards Sillathwaite was beautiful, we all enjoyed the shade of the trees. Arriving at the top of Dent Hill totally puffed, hot and invigorated, we found a place to sit and enjoy the views.
After picking our way through the boggy bits we found our way to the top of Raven Crag, with wild flowers at our feet, birds in the clear blue sky calling us away from their ground nests and a light warm breeze. The descent was something that we had not anticipated and boy did our toes hurt by the time we got to the bottom of what is considered to be the steepest descent on the whole walk. Good to get it over with early in the walk.

Walking along the floor of the valley alongside Nannycatch Beck we were able to relax into a good steady walking pace.

Arriving at Low Cock Howe B&B was eventful to say the least; we encountered about 20 horses coming out of the drive and heading for common pasture on the fells.

Arriving at Low Cock How B&B
As we arrived at the farm a mare had recently (that day) foaled. What a lovely welcome to a hot and tired walker after a 21km walk.

We were to sleep in the bunkhouse which seemed a bit like a private dormitory for our group. Tea and cakes awaited our arrival and nothing was too much trouble for them. This is a typical working farm with animals everywhere, and a relaxed atmosphere. A number of people were staying here either in the main house or camping.

After we freshened up we ordered a taxi to take us to Ennerdale Bridge for a meal. The Fox and Hounds was extremely busy, but the wait for the food was well worth it. We arrived back at 10.30 and went straight to bed, and sleep came easy to most of us, although Val didn't sleep much and woke up with a migraine.