The Walk
Travelling to St. Bees - Friday 13th June 2008
We all gathered at Jenny's house where friends of hers, Don & Carolyn were waiting to take us in their minibus for the journey to St. Bees. Everything was loaded by 9am and we were off, although half way down the drive we had to go back as Jenny had forgotten an important item (details of where we were staying).

It was a good way to travel as we had plenty of space and one or two of the group had a cat nap.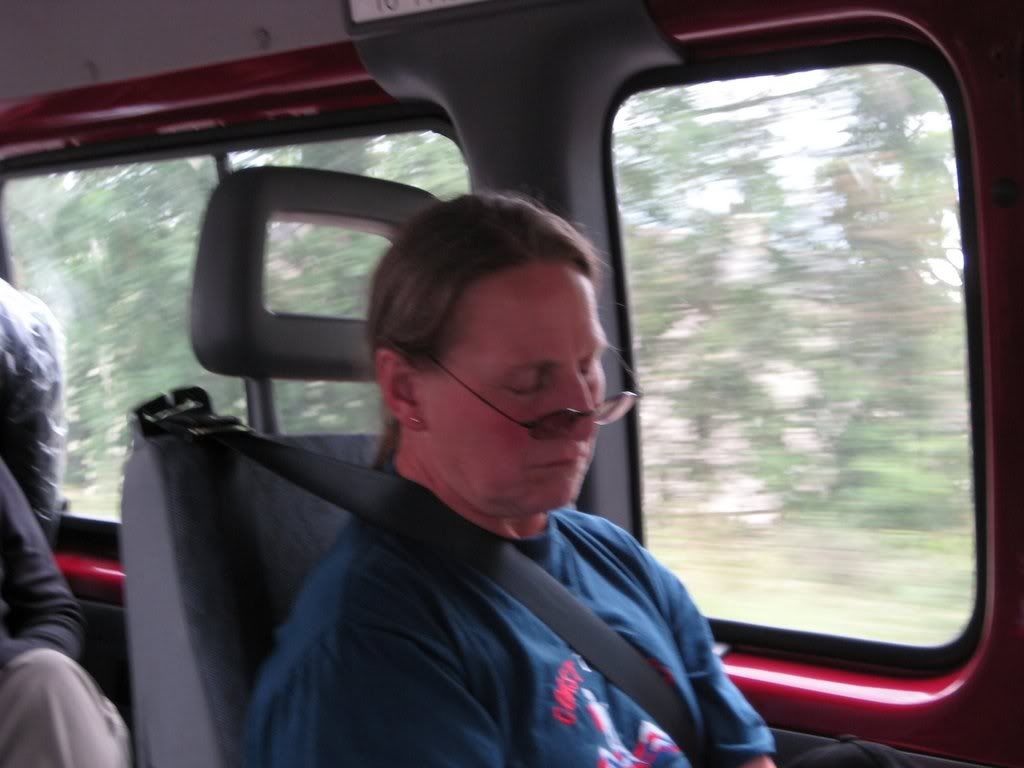 Val taking a cat nap
There was much laughing and general chit chat with a mixture of excitement and apprehension – what have we done?
The journey was uneventful, with a couple of comfort breaks, we arrived at our B&B, Fairladies Barn, at 5.30pm

Jenny's room was in the basement; mine was outside in a self contained annex, the rest of the group shared an apartment in the main building. Don and Carolyn had a room at the top of the house with a view of the Isle of Man in the far distance.

Jenny, Don, Carolyn and I went to find food at around 7pm, the Queens was closed down, so we headed across the road to the Manor House, Val, Di and Celia followed shortly afterwards.

The Manor House was full of C2Cers, and on the table next to ours were a group of Canadians who asked us if we were the 'Famous Five Grannies'. Our fame had preceded us. We were to encounter this group many times over the next 13 days.

After our huge meal we decided to try and find the start of the walk and to walk off some of the food that we had just consumed. After much giggling and oohs and ahhs at the views we strolled back to Fairladies Barn.

I spent time getting my gear sorted, writing up my log and reading about the following day's route (Henry Stedman's Coast to Coast path).

Finally in bed at around 10.30pm